Palmyra Cove Nature Park (PCNP) is a 250-acre urban oasis along a highly developed area on the Delaware River. Habitats include wetlands, woodlands, meadows, wild creek and river shoreline, and a freshwater Tidal Cove after which the park is named.
The Institute for Earth Observations at Palmyra Cove is a STEM educational initiative for students and teachers that studies Planet Earth. This is a unique and engaging facility where experiences can be shared…and innovative collaboration begins!
PRE-SCHOOL PROGRAMS
Looking for something to do with your pre-K student or child under 5 years of age?
Come to Palmyra Cove Nature Park/Institute for Earth Observations for Cove Caterpillars, bring your toddler into the Environmental STEM Center to investigate on their own or into the outdoor park to explore with you. Or bring the whole family for a family-centered activity.
COVE CATERPILLARS
A preschool program that focuses on nature!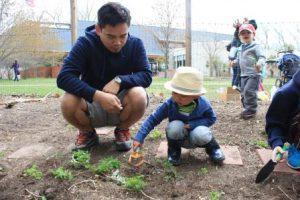 Cove Caterpillars is a one-hour hands-on nature program tailored to children's blossoming curiosity about the natural world. Start inside with an introduction to the weekly nature topic, then head to the park for an outdoor walk where children learn about nature's treasures. Afterward, head back inside the Discovery Center for the post-lesson nature craft to take home. A different nature-themed topic will be explored each week.
Date: Spring and Fall (10-week programs) – Check the calendar for details.
Day/Time: Offered 10AM to 11AM or 1PM to 2PM on Mondays, Tuesdays and Wednesdays.
Age group: Children ages 2-6.
What to Wear: Dress for the weather; the class is held rain or shine. Dress in layers; boots are suggested.
What to Bring: Bring a sturdy bag or bucket for collecting natural objects. Children can bring other nature tools if they would like, such as bug boxes, collecting nets, compasses, etc.
Cost:  FREE to PCEEF Family Members registered for the program.
PCEEF MEMBERSHIP
Registration
To register, contact John Moore, Executive Director,, (856) 829-1900, jmoore@bcbridges.org
What else?
Parents/guardians must accompany participants. Younger siblings are welcome to join us, and older siblings are allowed during school holidays. Registration is required and needs to be confirmed by the teacher in advance.